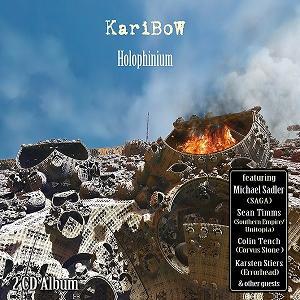 Once upon a time, in Germany, Oliver Rüsing formed a one person musical project and called in Karibow. Over time, the project became his full time occupation, recording material with a total worth of 17 albums. As a multi-instrumentalist (but originally a drummer), he composed, played and recorded everything himself, with an occasional guest musician showing up here and there.
As I wrote last year in my review for the album Addicted, winning two prizes in Germany and getting the encouragement of his wife, he set up a live band for Karibow. As I witnessed their very first gig late last year, at the Blue Notez Club in Dortmund, only about 35 people, mostly invited guests were present. On a recent German tour with UK companions Saga, following the 2016 album release Holophinium, these 35 guests were succeeded with as much as 1200 paying visitors during a Munich gig. An overjoyed Oliver told me that they were even singing along to the previously released 'single' Victim of Light. [acfw id=2]
So what happened here? Easy: Oliver Rüsing composed 97 minutes of solid rock music, released on a double CD set. Music that moves him at big step forward from the AOR oriented Addicted, toward a more progressive rock approach. The AOR side of the music is still present on Holphinium, but the more complex and progressive line of F8 Al Ba6 and the emotional 9/16 continued on this this album. The overall sound is perhaps best described as a mix of IQ, Saga, Pendragon with a dash of Marillion. Here and there I even spotted a pinch of Iron Maiden to add even more spice.
Holophinium consists of music that contains many layers, and each listen brings something new to the ear. One time it's the keyboard, the next a bass run or a drum pattern – and there are many of the latter! Due to this, the tracks are varied, yet similar enough to make it possible to recgonise it is all Karibow. The title track sets the stage for the rest of the album when it comes to that: synth and keyboard driven vocal parts, almost symphonic, are interleaved with heavier, metal influenced instrumentals and changing drum patterns. My favourite track of the album E.G.O. brings even more of that. Almost a prog rock epic, lyrically dealing with the cause and downside of egocentricity, and the need to reach out and love others than yourself as well. Oliver Rüsing brought in two external vocalists on this album (Michael Sadler on Rivers and Karsten Stiers on Orbital Spirits), but using his own low, 80s influenced voice on this one was the best choice.
Next to these I was most happy with the have-the-audience-sing-along-but-not-a-pop-rock-track Victims of Light, the beautiful River, and Quantum Leap, which has a hypnotic drum pattern and great keyboard work by Sean Timms of Unitopia and Southern Empire.
All of these, and more, are on the more than enjoyable first CD of the set, called Fragments. The second CD contains what is advertised as a single, 36 minute track, consisting of 7 parts: Letter from the White Room. The lyrics (or part of them) form a letter, written from the perspective of an astronaut in the white room, the room from which they enter a space craft before launch. This 36 minute piece could have been an album in itself, and is even more layered and complicated in structure than the first CD. Moon starts as an almost vocal only introduction, followed by Walk on Water with an Iron Maiden like guitar riff, and then the 'suite' builds up in heaviness throughout the 4 parts – with beautiful interplay between all instruments – until it drops back to a slow, question endon Plutionian.
So, this is the perfect album then? No. I'm not going to let Karibow get away with this – if only because even though Oliver has been on it for almost 20 years, Karibow have only just begun. There are small flaws, and I would love to see them do an album as a band, not having everything done by Oliver himself. So, putting on a little bit of pressure here. But apart from a few small things, the only real issue I have with the album is it's length. I started playing it as two separate CDs, because 97 minutes really is a long time to listen to one album. Given that Letter from the White Room is almost an album by itself, it's not a big deal though – we got two album for the price of one. Now let's have Karibow enjoy life on stage, and with a bit of luck we'll get another album from them in 2017 or 2018. Definitely highly recommended!