When Messenger appeared on the musical stage in 2012, they claimed to be influenced mainly by folk rock and progressive psychedelia. I haven't heard their first album, released in 2014, which seemed to live up to that statement. However, their 2016 release Threnodies does the same, adding what could be best described as metal influences here and there.
The album, entitled Threnodies (payers for the dead), was written and recorded at the end of 2015, and the title and music were partly inspired by the Paris shootings, during the Eagles of Death Metal gig at the Bataclan.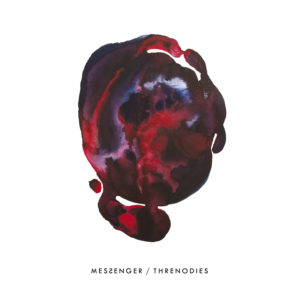 The first track, Calyx is an instant claim to attention. The slow, atmospheric first half changes it's rhythm a few times almost unnoticeably. It makes the listener at ease, with the soothing combined vocals of Khaled Low and Barnaby Madock, when suddenly a synth and a rolling drum and bass pattern come in, quickly joined by guitar and keyboards to create a musical storm – waking us up to what is yet to come.
On Oracles of War this continues, a track that starts with a dark guitar and then speeds up rapidly in a way that is influenced by Black Sabbath, according to the press release that came with my promo copy, but it could just as easily be influenced by early Deep Purple. The track slows down, back into the psychedelic, early 70s Pink Floyd realm half way, making it into a very enjoyable and varied piece of music. The slow, melodic guitar solo near the end proofs that point perfectly. [acfw id=2]
The band proofs itself further on the rest of the album. Balearic Blue reminds me of Pink Floyd again, but with an early Porcupine Tree flavour added. On Celestial Spheres, the pulsing bass intro makes me expect someone to shout "One of these days…", which of course doesn't happen, although it is joined soon by a very Floydian guitar soon. The music on this one goes straight into the psychedelic region again, with the two vocalists working tighter again very nicely. Somehow, the way they cooperate reminds me of IZZ, another great band I discovered only recently and far too late. Halfway, a bit of grinding bass adds darkness underneath the clean guitars introducing a nice twist into a slightly heavier sound.
Nocturne lives up to its name, with a pulsing bass and guitar and slightly haunting vocal harmonies. The guitar solo on this one works really well, giving a slight folky feel without loosing the dark edge of the music.
On Pareidolia, the band takes us to the early 70s hard rock sound again, with the first half alternating between this and a more friendly, almost folky sound. The second half of the track is a more psychedelic sound scape again, almost as an intro to the soft, melodic – almost bluesy Crown of Ashes. It has a slight folk ring to it as well, but is more powerful than the works of Aïnulindalë, whose album I reviewed last month.
This band had not appeared on my radar until the promo of this one landed in my digital inbox, but I'm definitely going to check out their debut album as well after hearing this. Warmly recommended.