The sound of a computer bleeping, in a science fiction way, sounds from my headphones. It is followed by vaguely human noises underneath an industrial soundscape, which floats seamlessly into a bass and guitar riff. A riff that stops abruptly to make room for a synth sound and the high pitched voice of Ross Jennings, a pattern that repeats a couple of times – forming a track called Initiate. The initial sounds, which lasted about a minute and a  half were for Affinity, the opening and title track of Haken's 2016 release.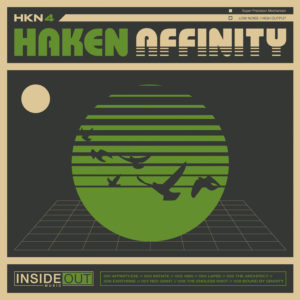 After hearing Mountain, their 2013 release, early last year, and seeing them live at the Night of the Prog Festival in Germany, I was quite interested in hearing this release. A release that surprised me a bit, because it sounds very different from Mountain. Much less the 'metal version' of Gentle Giant (the brilliant Cockroach!), this album has a slightly more 'electronic' feel to it, with synths and keyboards that, on 1985, even remind me sometimes of 1980s Rush and Asia – but with a modern twist and a heavy edge to it – and lots of room for quiet, melodic and atmospheric parts.
At the point I heard this, I had a look at the press release that InsideOut records included with the promo material. Indeed, Haken made a conscious choice this time to work with their influences from the 1980s instead of the 1970s. And with good result – the album sounds fresh, different from what they did before, with recognisable parts in it but never a copy of what was done before. That same 1985, which is according to the band influenced by the likes of 90125, Toto IV and Three of a Perfect Pair, also contains heavy guitar, bass and drum work as to be expected from what is still labelled a progressive metal act. This track, and the 15 minute epic The Architect alone make the album worth the money. The Architect mixes heavy sections with atmospheric ones, making it into a muscial trip through the 1980s and the 21st century. At one point I as surprised to hear a death metal vocal, which I hadnt' expected from Ros Jennings. And rightly so, because fo this piece, Haken had invited Leprous vocalist Einar Solberg. [acfw id=2]
Every track besides those mentioned has it's merits on this album, a mouth watering source of variation and musicianship. The 80s electronics of Lapse, the poppiness of Earthrise, the sustained beat of Red Giant, the whirling of the guitar that comes back later in the synths on The Endless Knot, and the spacy atmosphere of Bound by Gravity.
After being surprised by them on Night of the Prog, was planning on going to see Special Providence end of May at De Boerderij in Zoetermeer, and now that I know they are support act for Haken, who are there to promote this new album, that plan will have to become reality. A six piece that may stick with us for a few more years.