Today I realised it's been over a month since I posted anything here, and the last post wasn't even a review. I have been reviewing, for other sites, and I've been busy with other music related activities (more on that in future posts). This year, 2015, was a bit of a special year for me, in many ways.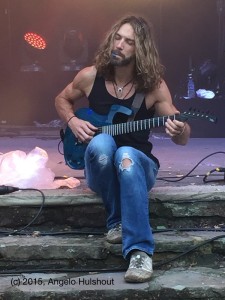 A year in which I had a lot of time to spend on music and other things that are supposed to bring joy and happiness. Not entirely because I wanted to, but some rebalancing was in order. Now that that is almost behind me, it's important to maintain the balance I have found. Therefore, next year will still see me reviewing albums and writing (about) music, but the number of reviews and posts will be limited. Before Christmas, I'll try to catch up with about 10 reviews and 1 or 2 articles I want to finish this year. After that, I will limit my reviewing to one album per 2 weeks, so 26 at most in 2016. For the time being, this is what I do next to work and all the other chores live comes with, and limiting my reviews in that way will allow me to make the reviews more useful, and it frees up time to work on other things, like background articles, my own musical endeavours and (gig) photography.
So, over the next two to three weeks, a bunch of reviews will appear, as well as the articles I referred to, and after that – you'll see what happens, but I will be here at least once every two weeks with something new.