The first 42 years of my life I largely ignored the fact that a Mr. David Bowie existed. The reason was very simple: at the time I was a teenager getting into the likes of Van Halen, Iron Maiden and Metallica, he came up with songs like Let's Dance and Little China Girl. Not bad, but certainly also not what a 'guy like me' was looking for. The only song that did somewhat hit home with me was Space Oddity, captivating as it is.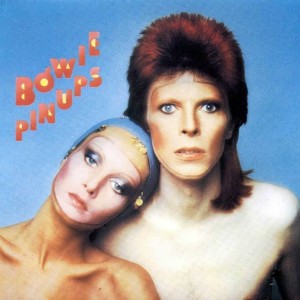 About a year ago, that changed, as I was introduced to his older materials, through songs like Five Years, Rock 'n Roll Suicide and the somewhat more recent Sound and Vision and Station to Station. Those I liked so well, that after some (well guided) touring of Youtube and Spotify, I ended up hunting down his first 14 albums on vinyl. No need for original pressings, but these I needed with big sleeves, lyrics sheets and the whole thing. Just to have something to hold while listening to some brilliant music that had escaped me for too long.
So, tonight I feel like listening to some of that again, and I had random.org pick a number from 1 to 14 for me. Outcome: 6. Corresponding album: Pin Ups. Interesting, an album full of covers that received, and still receives mixed responses. Not surprising, given that it was released not long after Bowie decided to kill his break through character Ziggy Stardust, by one evening simply announcing to his audience and band that 'this will be the last performance of Ziggy Stardust'. A cover album, as follow up to such massive success? Well, I enjoyed a large part of it last time I played it, and so I will enjoy it again tonight. In between all the attention that goes to the little ones in the shadows, tonight it is time for a very big one.