IZZ have been around since the 90s, and were founded by American brothers  Tom (keyboards, vocals) and John (bass, guitar, keyboards, vocals) Galgano. Over time, the band became known for incorporating different styles into their music, and for combining four vocals: the two brothers, and female vocalists Laura Meade and Anmarie Byrnes). They've been getting more attention since their fourth album My River Flows (2005), and released their seventh, Everlasting Instant in 2015. [acfw id=2]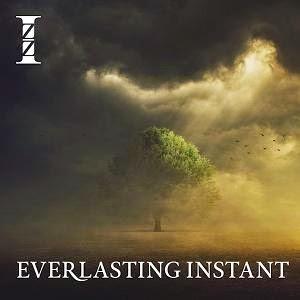 For me, this album was the first I heard of IZZ, another band I had heard about but never got around to listening until this year. I got hooked quite quickly, exactly because of the aforementioned characteristics. The mix of styles means that every track is different in nature, but still fits what is apparently the IZZ sound, and the vocal arrangements are often simply mesmerising.
The opening track Own the Mystery, has such an nice vocal arrangement in its 'choruses', that makes for a nice addition to a soft, almost pop piano and keyboard based track. The change to Every Minute is surprising. This is  a short instrumental which introduces the bass of John Galgano, which proves to be a constant factor throughout the album – a bass that is not there for support, but to drive the music and provide it's own melodies and riffs.
Riffs like the one Start Again, which is interleaved with very melodic vocal parts. The interleaving builds into a question answer pattern, with male vocals on the bass driven parts, and female vocals answering in the quieter more melodic sections. The second half of the track has more power and the male vocals become Sting like, but more powerful… Guitarist Paul Bremner seems to play two guitars over each other on the instrumental too.
The more jazzy If It's True has yet again a very clear bass line, crisp bass line, with guitar and keyboard melodies moving in and out – supporting the female vocals. The synth noises at the transition from verse to chorus give it a slightly more experimental feel, and the short instrumental mid section briefly rocks before going back to the beginning.
And so it continues, with new elements in every song. The Three Seers starts with a mysterious piano and male vocal part. The first half of the song is like a 21st century minstrel telling a story accompanied by piano, while the darker, keyboard heavy second part is more desperate, and emotional.
The title track has an electronic beat, which is answered by a counter melody from a female voice, singing an almost Celtic piece. It develops from there into  more folk rock like track, then to keyboard and organ driven symphonic rock, going back to the Celtic feel in the end. If not proven already, this track shows how IZZ use vocals not just as a carrier for lyrics, but really as an additional instrument.
Keep Away is best described as 'contemporary jazz rock', with a 'jumpy' bass line, which both contrasts and supports the slow melancholic vocals, keyboards and guitar. When a second female vocal joins half way, goose bumps are guaranteed.
The two most complex tracks on the album Can't Feel the Earth Part IV and Sincerest Life sandwich the more accessible, Illuminata. Where that track starts with a happy, thoughtless feel, brought on by an acoustic guitar and then developers into a slow neo prog track, the other two are less clearly defined. Can't Feel the Earth starts with bass and percussion, but builds in a few steps into a 70s symphonic rock track, with a big organ and guitar sound, and a very present bass. And of course, with a great goal arrangement again.
Hardest to get into is Sincerest Life, which goes from piano piece to a wailing guitar and keyboard lead, then to a more jazzy mood, then to a shuffled rock rhythm and an intricate vocal arrangement again. Here, even more than on the rest of the album, the off the trodden path drum work also helps confusing attentive the listener.
After all this, the mellow rock track Like A Straight Line, which has a nice layering of melodies and is almost completely instrumental is a fitting end.
As I like an album more, my reviews tend to get longer, and this one is no exception. The only words missing are 'highly recommended', although given what others old me, the three albums preceding this one may even be slightly better.