On dark days, I may have gloomy thoughts  – which I later mostly regret. Never were they as dark and gloomy though as the experiences that led Amadeus Awad to compose, record and release Death is Just a Feeling. Inspired, if that is the right word here, by the loss of loved ones, and a failed suicide attempt, this album is a new addition to the list of cinematic concept albums. Albums that require one to sit down and listen, and to feel. Think of well known titles like Pink Floyd's  The Wall, or The Human Equation by Ayreon, where that applies as well. [acfw id=2]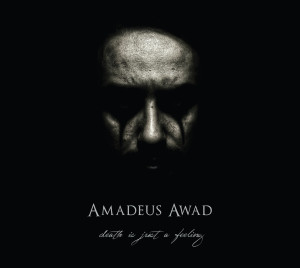 Each track on this album fills a piece of a puzzle, that, once complete leads to the realisation, waking up after a failed suicide attempt, that
"…what I killed last night wasn't my flesh, but my connection to the surreal skies I roamed in since the creation of the universe. I was already dead when you touched my face, death is just a feeling."
The album consists of 6 tracks only, and it lasts just over 45 minutes, but it appears longer when listening. The story is carried by voices as well as music. Narratives by Dan Harper, with a low, hypnotic voice, are interleaved with angelic, and sometimes anxious vocals by Anneke van Gierbergen,the dramatic voice of Elia Monsef and the careful, almost shy sounds of Arjan Lucassen on the closing track. These voices are surrounded by music that is an eclectic mix of metal and heavy symphonic rock that is carrying the different moods of despair, grief and wonder. The acoustic opening track, with Anneke singing as an angel is one end of the musical spectrum, while the central piece of the album, Lonesome Clown takes us through metal, heavy rock and wailing keyboard music. This track is a 12 minute musical masterpiece, that would easily have fit on any Ayreon album. Actually, the presence of both Arjan 'Ayreon' Lucassen and Anneke van Giersbergen makes one wonder sometimes if this is an Ayreon album, but the music still different from what Arjan Lucassen has done.
Highlights of the album for me, besides Lonesome Clown, are the emotion filled guitar solos on Tomorrow Lies (which also include a great use of cello) and Temporary, and the way Monday Morning musically expresses the feeling of remembering a final goodbye. A final goodbye from a love one, who gets killed in an explosion shortly after.
The sound and production of the album are very full, because of the continuous presence of synths and keyboards in the back. That makes it somewhat loud, but never in a disturbing way – and even the clarinet on Temporary is able to come out front and center.
Despite it's dark nature, this is amongst the best albums released this year (I skipped over a few planned reviews to write this one today). Highly recommended, certainly for those who like musical adventures akin to what the people involved in making this album normally deliver. It's a work of art,  and I could easily see someone making a short, very dark movie to this album, to complete the package.