Having released four albums in 13 years, Virus is clearly a band that doesn't focus on quantity of releases. This feeling gets stronger when you take into account that the length of their fourth, 2016, release Memento Collider is only 45 minutes long.
The Norwegian band, headed by Carl-Michael Eide (vocals and guitars) has its roots in the Norwegian black metal scene of the 1990s, but have moved on quite a bit from there. On previous albums, their music was compared to that of for example Voivod and Cynic, but they also claim influences from the likes of Talking Heads and even Miles Davis. The latter is definitely not very present on this album, the others can easily be found when listening carefully.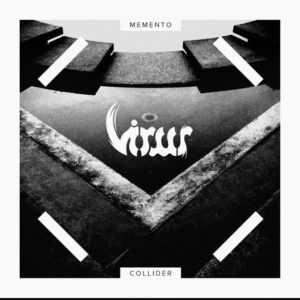 What is immediately immenent when listening to this album, is that this is not happy party music. Sinister guitar riffs, supported by very melodic, often quite slow bass lines build an atmosphere of eeriness that gets under your skin. I think we have all tried listening to Dark Side of the Moon in the dark with headphones one. This album gives the same feeling, but with far darker music. The first two tracks, Afield, which is very dark and slow, and Rogue Fossil, which shows more rhythmic and melodic variations either pull you into the album or drive you away from it. I let myself be dragged in, and I must say I have no regrets. This is the kind of music I appreciated at the time Voivod let go of their pure metal roots, and some elements of the music also remind me of the Austrian band Il Ballo Dell Castagne, whose album I reviewed end of last year. [acfw id=2]
The remaining four tracks on the album do not all reach the level of the first two, in terms of darkness and variation, but none are bad. The bass is very prominent in all tracks, as are the sometimes frantic drums (Phantom Oil Slick!). Gravity Seeker, which lyrics are the source of the album title, has a slow, almost 80s new wave feel to it – with a heavier basis.
All in all – for those who like the bands mentioned in this review, this is definitely a band to check out. The same holds for metal fans who want to hear what a metal band can do when they leave their core roots behind and start mixing in other things. One thing is for sure, in terms of progressiveness, this is a lot more original than all the Yes, Genesis and Pink Floyd derived material that is floating into our collections these days. None of it bad, but some refreshment for the ears is more than welcome.