In the modern prog world, we find a number of communities, consisting of fans and musicians. The communities are represented online, on Facebook or on music web sites, and the involved musicians end up playing on each others albums, or cooperating on  'special' albums. Some of these cooperations involve long standing artists, for example the current cooperation between Jon Anderson, Roine Stolt and Jonas Reinhold in Anderson/Stolt. Others involve less well known artists, some of whom also have been around for a while already. Here examples are cooperations around Corvus Stone's Colin Tench, or United Progressive Fraternity and Mark 'Truey' Truack.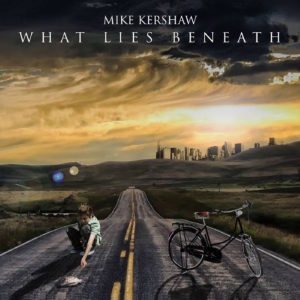 Another example is the community that revolves around the band Big Big Train. In their Facebook group, a whole lot of musicians have found each other, including for example Fractal Mirror and some members of Unto Us. In this community, we also encounter keyboard player and vocalist Mike Kershaw. On his album What Lies Beneath, subject of this review, we find a lot of musicians who are active in the BBT community, like Leo Koperdraat, Leopold and Allyson Blue-Sky, and Gareth Cole.
As can be expected, having musicians, good musicians cooperate, something good must come out of it. On this album, we find 8 tracks, on all of which the involved musicians give it their best. Frank Urbaniak's drums, Gareth Cole's and Leopold Blue-Sky's bass are the most frequent companions of Kershaw's own keyboards, but on individual tracks we also find drums by Joshua Leibowitz, Rohan Jordan-Shah and Leopold Blue-Sky, while Leo Koperdraat and Tom Slatter take care of guitar and vocals on Two Eyes and Wounds.[acfw id=2]
Looking at the compositions, most of the tracks are written by the trio Kershaw, Blue-Sky and Cole, and feel like a mix of rock and folk, often with a nod toward the 80s – especially when Mike's keyboards come in. What strikes me is that although each track has it's own little treats, there is no real shiner among the tracks composed by this trio – although the guitar solo in Another Disguise is a landmark on the album. The tracks Two Eyes and Wounds, for which respectively Leo Koperdraat and Tom Slatter not only played guitar but also wrote the music, appeal more to me. Two Eyes, which' lyrics are very personal to Mike Kershaw certainly brings life to the album half way, and although not an up tempo track, Wounds stands out as well – this could be a Roger Waters track to my ears.
Due to the keyboards and vocals, Gunning for the Gods is the only track on the album that I don't really appreciate at all. It's thought provoking lyrics get buried in a keyboard sound that is not working for me.
All in all, this is not a bad album, certainly not in execution by the musicians, but I would have hoped for a little more excitement in the compositions. Apart from 'breaks' and 'bridges' a lot of the music gets stuck in the same slow, melancholic mood and tempo, which makes it hard to keep listening attentively. Part of that judgement no doubt comes down to taste, so I do suggest everyone to give it a try, not ignore it.