I intended to wait with this review until the vinyl was out, but that would take too long now that it's postponed (although only by a week) – the world needs to know all there is to know about this album, now. If only because I just started a new love affair – with Echolyn.
Echolyn have been around for over 25 years if we count from their founding in 1989. The current line up has only been in effect since 2003 when bass player Tom Hyatt formally joined the band, joining the other members who had been there from the start. [acfw id=2]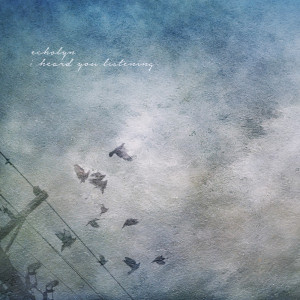 Now 25 years together, with only the bass player replaced has made Echolyn a stable force when it comes to composing their music. [Note: the bio I used as input for this intro contains a small flaw. Tom was in the band earlier from 1990-1995, so he didn't join in 2003, but rather rejoined. – AH]
I'm always careful with comparisons, but the influences the band themselves have indicated multiple times (including Genesis, Jethro Tull and Steely Dan and Gentle Giant) are clearly present here. The melodies of the first, the folky style and guitar of the second and third and the intricate vocal harmonies of the latter can all be found here, but never in a copy cat way. Actually, when I listened to the album, before diving into the history and background of the band, I heard symphonic rock, folk and rock 'n roll in it – which confirms the influences from where I'm standing.
The music of Echolyn is a mix of all the above, and the 9 tracks on this album provide them in different mixes – here's a selection to give you an idea.
Where Messenger of All's Right builds up from a soft piano based melody to a complex folk inspired rock song, Warjazz is indeed what the title suggests: a mix of symphonic rock with jazz rock influences and numerous changes in tempo and orchestration (if I may use that word). Empyrean Views has a familiar sounding (folky) guitar signature, that I've been trying to map to something I know for a month now, without much success, combined with intricate vocal harmonies.
The band is also not afraid to go full on, in the intro and outro of Different Days, or on Vanishing Sun (Tom Hyatt knows how to make a bass really growl there!). And then there is the somewhat funky, jazzy yet rocking Once I get Mine, with a fitting, funny 50s rock 'n roll guitar sound built in.
The only track I may not appreciate to the fullest yet is Carried Home, which has a slightly electronic 80s feel to it. That's not entirely my thing, and it is different from the rest of the album, but it's executed well nevertheless.
Lyrically, a story can be made up with every song, just listen – read the lyrics and think of what they are about. Songs that tell a story, although sometimes with a little bit too much trying to make things rhyme (Empyrian Views – "They found the steppe and sang it's song, some settled in or just moved along"), some make you wonder what their meaning is (Messenger of All's Right – "The rumble would decay when the needle hit the groove to build the silence"). They make me think and wonder…
Production wise, the album must have been challenging – with all the keyboard and vocal melodies going on, the bass sometimes drowns a bit, but overall the sounds are clear and well balanced.
An album full of surprises, every time I hear different things – and it doesn't bore me for a second. Can't wait for the vinyl version to come in…